Dental Implants in Oswego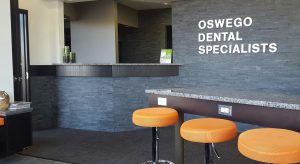 Oswego Dental Specialists perform dental implants as an effect, permanent solution to missing teeth. Implants are designed by industry professionals to look and feel like actual teeth.
Dental implants are permanent. The process can be done on one or multiple teeth, and they do not need to be taken in and out like you do with dentures. Trust the experts at Oswego Dental Specialists to hand all of your dental needs including dental implants to replace your missing teeth.
If you would like complete information about dental implants in Oswego or need to schedule an appointment or consultation, feel free to call 630-554-9800 and speak with a qualified professional. Or you can simply fill out the contact form on this page and an associate will get back to you promptly to answer any questions or comments you may have.
Qualified Professionals Use Dental Implants to Replace Missing Teeth
A dental implant is a permanent replacement for missing teeth using metal frames that are surgically implanted. The implant is a titanium screw that is placed in either your upper or lower jaw. The implant fuses with your natural bone and provides an anchor for a replacement tooth. Implants can be used to replace a single missing tooth, or several teeth.
A qualifying patient must have healthy gums and an adequate amount of bone support to support the implant. Once you have implants installed, visits to the dentist for cleaning is still required to make sure your teeth and gums are still healthy.
Contact Oswego Dental Specialists for Dental Implants
To get in touch with a dental professional at Oswego Dental Specialists, and learn more about dental implants in Oswego, call 630-554-9800 or fill out the form on this page and a dental professional with promptly respond.
Have a question?
We can help.
Use the form below to send us an email and a professional will respond shortly.
"*" indicates required fields